Design by Ed Wittstein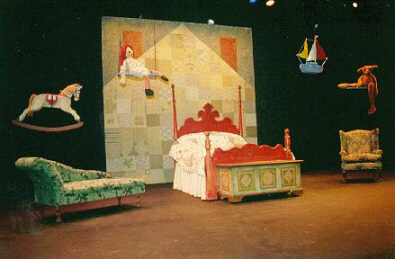 The backdrop is a scrim quilt over a steel frame. Rope lights followed the profile of the house, giving a lovely effect when they were lit. The Raggedy Ann doll was found by Ed Wittstein out of town, but we built the rocking horse and the boat. The bear was custom made on order from the Enchanted Forest in NYC. He almost didn't make it to the stage when Anthony's roommate attempted to kidnap him.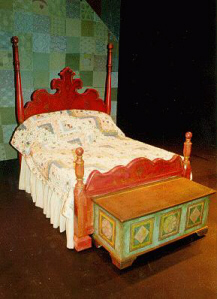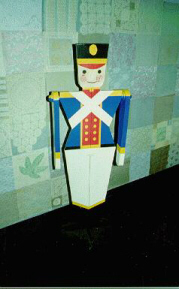 The Bed (Which got its own bow) has posts turned by Jerry Marshall. Tony built the headboard and the footboard and mounted everything to a steel frame. The whole unit pivoted on a center point and spent quite a bit of time spinning around.


Tony built the toy soldier from plywood and blue foam.
Vaughn Patterson and his star crew did their usual stellar job on the paints.
This set, incidentally, is available for rental from the producer, Arthur Cantor. If you're interested drop us a line and we'll put you in touch with him.
---